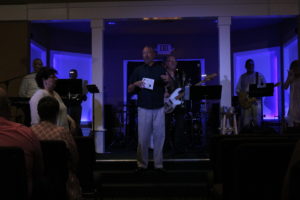 Sermon and Message Podcasts Coming Soon
Be One Outreach is selling Acts of Kindness Advent Trees. This is a wonderful way for families to share the love of Jesus everyday leading up to Christmas. Each day you will take an envelope off of the tree and find an a way to bless someone. It's a way to take our mind off of what we may get and find joy in giving. It may be making a meal for someone or sending a special card or visiting someone and sharing some Christmas joy. What a wonderful gift to share with our children!
The Advent trees are $20 and orders need to be in by Thanksgiving Day. All money made will go to needs in our community.

"Don't sit around waiting for a miracle to come
when you can Be One"
From the song
"Be One" by Natalie Grant ...
 21
I can't pick just one...His Grace, His Mercy, His unfailing Love, His Comfort, my list goes on and on...
5 days ago   ·  2
He is the same forever....yesterday and today....I do not feel worthy....He and His Son, lift me up.....God is the creator of the greatest story ever told....and He and His Son, Jesus, still tell the story of us every day...we can all be a part of this deep, intricate, agape story. All we gotta do is want it and live it and the Father, Son and Holy Ghost....will help us every hour....we just have to believe....
Live Cruciform!
5 days ago
His EVERYTHING
5 days ago
That He would save someone like me!
5 days ago