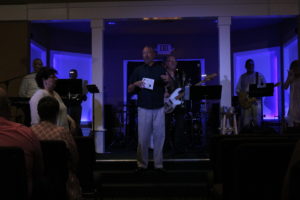 Sermon and Message Podcasts Coming Soon
We are so excited about partnering with FoodRaising Friends! Monday's are our day to give out bags of groceries to families with school age children.
We are at the Bennett Russell Elementary from 9:30 - 11:00 every Monday.
You can also pick up a breakfast and lunch Monday - Friday. You have to have the kids with you to get the meals. Please spread the word!
If you want to support FoodRaising Friends, Inc you can find their info here on Facebook.We have been thrilled to form new partnerships during the pandemic, as people have wanted to reach out and feed children and families! Hope Church at The Moors is one group that leaned into our work. For all they have done, FRF remains very grateful! ...
Load more
Be One Outreach Meeting
Monday, April 30th at 6:30.
God's Mercy, makes me feel loved.....
1 day ago
And my little dog, Misha.....
1 day ago
 21
I can't pick just one...His Grace, His Mercy, His unfailing Love, His Comfort, my list goes on and on...
5 days ago   ·  2
He is the same forever....yesterday and today....I do not feel worthy....He and His Son, lift me up.....God is the creator of the greatest story ever told....and He and His Son, Jesus, still tell the story of us every day...we can all be a part of this deep, intricate, agape story. All we gotta do is want it and live it and the Father, Son and Holy Ghost....will help us every hour....we just have to believe....
Live Cruciform!
5 days ago
His EVERYTHING
5 days ago
That He would save someone like me!
5 days ago
Reckless Love of God, Cory Asbury
1 week ago   ·  1
Toby Mac and Madesia -Bleed the Same, Toby/ I just need you, Danny Gokey-Masterpiece... way too many
1 week ago
Even If by Mercy Me
1 week ago