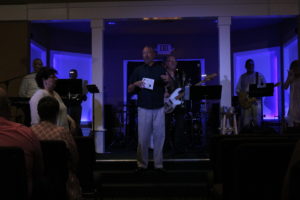 Sermon and Message Podcasts Coming Soon
Play
Hey Leigh Anne Weekley good morning

The Daniels' here listening from Ohio

Congratulations Amber and Justin!

Missing being there!

Good morning Hope!!

Good morning, Hope. We are watching.

Load more
 21
I can't pick just one...His Grace, His Mercy, His unfailing Love, His Comfort, my list goes on and on...
5 days ago   ·  2
He is the same forever....yesterday and today....I do not feel worthy....He and His Son, lift me up.....God is the creator of the greatest story ever told....and He and His Son, Jesus, still tell the story of us every day...we can all be a part of this deep, intricate, agape story. All we gotta do is want it and live it and the Father, Son and Holy Ghost....will help us every hour....we just have to believe....
Live Cruciform!
5 days ago
His EVERYTHING
5 days ago
That He would save someone like me!
5 days ago